Summer price slash for South Yorkshire passengers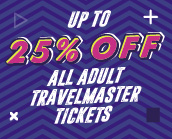 Ticket prices for bus, tram and train passengers in South Yorkshire have been slashed by up to 25% this Summer.
The eight week Summer Sale applies to all adult TravelMaster tickets, including multi-mode 1-Day, 7-Day, 28-Day and Annual Tickets, and the brand new Flexi5.
Delivered in partnership by TravelMaster and the Mayoral Combined Authority, the significant discount hopes to bring people back to town and city centres by public transport, to support recovery from Covid-19.
South Yorkshire Mayor Dan Jarvis, said:
"We're investing millions over the next 12 months to transform our bus network and make public transport more affordable, and this latest discount will help families in the pocket, ease congestion on the region's roads and boost our recovery from COVID.

"I hope everyone makes the most of this opportunity and enjoys a fantastic summer in South Yorkshire.

"I'm working to build a world-class public transport network and create a stronger, greener and fairer South Yorkshire. This is another example of how local leaders and I are taking action to make that vision a reality."
Tickets are discounted automatically and available from all TravelMaster retail channels, except rail stations – including, onboard buses and trams, at ticket vending machines, online or from a Payzone outlet.
TravelMaster Managing Director Matt Smallwood, said:
"This sale is probably the biggest discount we've ever offered and it has only been possible with the generous support of the Mayor and Combined Authority.

"Hopefully passengers will make the most of it as we encourage them to get back on board the region's buses, trams and trains as a greener, and more sustainable, way to reconnect with the things that are important to them this summer and beyond."
Young people can get a double discount with 25% off adult TravelMaster ticket prices on top of the 15% off available to 18-22 card holders. The 25% discount does not apply to GetAbout tickets.
Summer Sale ticket prices are available from 2 August to 27 September 2021 inclusive.
Visit the TravelMaster Summer Sale page for more information