On track for a greener future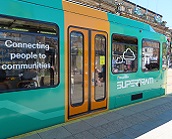 The 'green machine' has hit the tracks in South Yorkshire, reminding customers why Supertram is a climate-conscious choice for their journey.
The new-look livery holds our environment in mind, showcasing the tram's green credentials:
100% electric
0% street level carbon emissions and
uses energy from renewable sources
Supertram helps to cut emissions, congestion and improve air quality. By offering millions of passengers cleaner connections to jobs, education, leisure and communities in South Yorkshire.
The tram network covers 50 stops and 22 miles in Sheffield and Rotherham. Get onboard for a greener future.
The 'green machine' (tram 112) – designed by Supertram, Travel South Yorkshire and Kudos Creative - is running on the network now. Make sure you keep a look out if you're out and about.
We'll be sharing more photos on Facebook, Twitter and Instagram over the next few weeks!