Bus Service Improvement Plan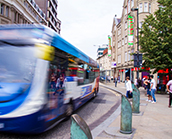 South Yorkshire Mayor Dan Jarvis and the four Local Authority leaders have set out an ambitious roadmap to transform South Yorkshire's bus services.
Submitting the Bus Service Improvement Plan (BSIP) to government marks the culmination of months of work – listening to the views and experiences of bus passengers, operators and stakeholders. It brings together local initiatives and successful recent funding bids, as well as new demands to government, intended to transform local bus services.
The plan includes:
A cap on daily and weekly fares, plus access to cashless ticketing to create an easy to use system.
A faster, more reliable and punctual system helped by significant bus priority measures.
A better bus experience with new bus shelters, on-street information, backed by a new customer charter to improve passenger journeys.
A new zero emission bus fleet and on-demand bus service.
A proposal to make bus travel free for everyone aged 18 and under in South Yorkshire.
South Yorkshire is asking the government for investment to make multi-operator tickets the cheapest way to travel on any bus, guaranteeing a daily price cap.
If fully funded, South Yorkshire's proposal will see 1,500 bus shelters replaced, with 1,250 new real-time displays installed. Buses will take on the same branding irrespective of the operator, and a new all-electric bus fleet will be introduced before 2040, starting with community transport vehicles.
More than £70 million of investment has already been secured by the Mayor and South Yorkshire Local Authorities to upgrade bus lanes, improve bus routes and tackle bus congestion.
You can read more about the BSIP submission on the South Yorkshire Mayoral Combined Authority's
website
.