Local Travel Survey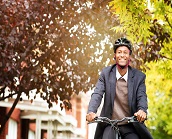 The South Yorkshire Mayoral Combined Authority (SYMCA) are inviting you to share your views on local travel in South Yorkshire to assist with their Active Travel Implementation Plan.
Everyone is welcome to participate but we're particularly keen to hear from you if you live in Goldthorpe or the Dearne Valley in Barnsley, Thorne and Moorends in Doncaster, Broom in Rotherham and Crookes and Nether Edge in Sheffield.
We want to understand your opinions on local travel, potential government action in local neighbourhoods to address traffic issues and attitudes towards road traffic, walking and cycling.
Complete the survey
and tell us what you think. It should take about 10 minutes to complete and the closing date is
31 July 2022
This survey is being conducted by Accent, an independent research agency in the UK.
More about this survey:
​The South Yorkshire Mayoral Combined Authority (SYMCA) has four constituent local authority areas - Barnsley, Doncaster, Rotherham and Sheffield.
The Active Travel Implementation Plan (ATIP) is part of the SYMCA Transport Strategy, which focuses on encouraging walking and cycling. The plan proposes the implementation of a fully connected network of walking and cycling routes which will aim to link the region, transform communities and encourage residents to walk or cycle.
The Active Travel Implementation Plan comprises Active Travel Lanes and Active Neighbourhoods:
◼ The Active Travel Lanes is a network of about 620 miles of accessible walking and cycling routes and includes 800 safe pedestrian/cycle crossings. These routes will often involve re-partitioning road space and change some vehicle parking arrangements
◼ The Active Neighbourhoods aim to transform streets into places where families, children, pedestrians and cyclists can relax and play safely, with very little through vehicular traffic. They can include street planters, parking for residents only, cycle parking and road closures for vehicles except cycles.