SY Leaders Back Boost to Fix Public Transport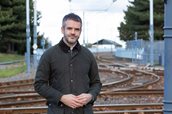 SOUTH YORKSHIRE leaders have backed a £1.1 million boost to fix local public transport pressures.

The 2% annual budget increase for transport from local councils in the region comes despite continued pressures on local government finance, and is the first uplift of its kind since the start of austerity over twelve years ago.

Mayor Oliver Coppard called the move a 'real signal of intent' in support of his plans to fix South Yorkshire's public transport system; but warned it won't go far enough to prevent further cuts without intervention from Government.

South Yorkshire's Mayor, Oliver Coppard, said:

"My vision is for a greener, smarter, integrated transport network that our communities can rely on.

"Bit by bit we're trying to make things better for the travelling public and this is a real signal of intent - we are taking the important first steps on our journey to fix public transport in South Yorkshire.

"But while the levy increase will help us to act now to secure longer-term financial sustainability for our buses, trams and trains, it does not make the crisis facing public transport go away – we still can't afford to protect all South Yorkshire services from cuts when our emergency budget expires. We will face hard trade-offs across the board.

"That's why I'll continue to fight for the funding and the powers to build a better transport network for South Yorkshire; to continue to call on Government to maintain existing national support. Because our community deserves a proper rescue plan, not a series of sticking plasters that patch-up a broken public transport system. We're doing our bit, now Government need to do theirs."

The move follows a £12.3m emergency rescue package from the South Yorkshire Mayoral Combined Authority (SYMCA) to protect bus routes and school services from cuts by operators, in addition to incentivization and cost-of-living packages including the 18-21 concession and the Mayor's £2 fare-cap.