Manchester Rail Consultation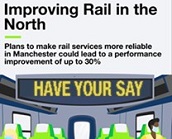 Passengers in the region who use the rail network in and around Manchester are being asked to share their views on plans to improve train services.

The new Department for Transport consultation is open to anyone in South Yorkshire who, before COVID-19, travelled regularly by train to Manchester, whether on a daily commute, for weekend shopping or theatre trips or to go to the airport. By having your say, you can help to get trains in and around Manchester running on time.

The consultation, which is open until 10 March 2021, asks for feedback on three different options, each designed to give passengers a more reliable service. The agreed option is scheduled to be introduced in May 2022.