July Service Changes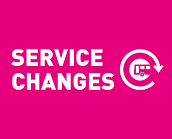 Bus operators in South Yorkshire will be making changes to some of their services from July to respond to changes in demand and improve reliability due to a shortage of staff to meet the current timetable.
There are also some changes due to contract expiry and no interest from commercial operators in bidding to continue to run services which we provide funding for. As a result of this, several services will no longer run, or will see their timetable reduced.
Most of these changes will affect early mornings, evenings, and Sunday journeys.
Barnsley services: 94, 94a, 94b, 96, 96c, 97, 99, 198, 203
Doncaster services: i4, 18, 203
Sheffield services: 32, 32a, 44, 73, 76a, 135, 135a, 208, X74
Rotherham services: 18, 44, 73, 107, 114, 116, 135,135a,140, 208
You can find out more information about these changes on our
Service Changes page
.
Work continues to rebuild passenger numbers across our network but whilst customers numbers recover, services will have to be adapted to efficiently meet new patterns of demand.
We are working closely with the operators and local authorities to minimise disruption and maintain local links and we are constantly reviewing the network to ensure that buses are running frequently and reliably in the communities that need them most.